Restaurant Venture: Delaney Barbecue
What: Full service barbecue restaurant, with multiple mobile outposts, and a robust catering department
Where: Brooklyn, Manhattan, Jersey City
When: 2012 - 2017

BrisketTown
Delaney Barbecue was my first restaurant brand, and BrisketTown the first restaurant. It opened as a small, counter-service barbecue restaurant on the South Side of Williamsburg, Brooklyn. The restaurant focused exclusively on the barbecue of Central Texas, and at its time was the only barbecue restaurant in NYC to cook meat outdoors, entirely using hardwood. This distinction allowed us to produce notably different barbecue than the NY had seen for a while, and brought us a good amount of visibility which resulted in numerous awards, lines out the door, and selling out of food on a nightly basis.
Over time, the restaurant evolved, and we remodeled to move into a table-service model. With this change, the restaurant's menu increased to include appetizers, brunch, dessert, and robust natural wine program.
SmokeLine
Shortly after the opening of BrisketTown, Delaney Barbecue was invited to start vending within New York's beautiful High Line park in Chelsea. Excited about the opportunity, we jumped on it, building out a beautiful cart made from reclaimed redwood from water towers, and a whole new sandwich focused menu. The location was later moved to Jersey City, NJ where it operated for a season.
The logo for Delaney Barbecue was a fun collaboration between Drew Heffron (NY-based designer) and Todd Sanders (Neon bender / artist / founder of Roadhouse Relics in Austin, TX).
From the start, I knew that I wanted to have a neon sign be the focal point of the restaurant, and I was a big fan of the work that Roadhouse Relics made. So, getting him to make it was the only option. The two of us brainstormed, he sketched it, and Drew refined it. The end result was beautiful!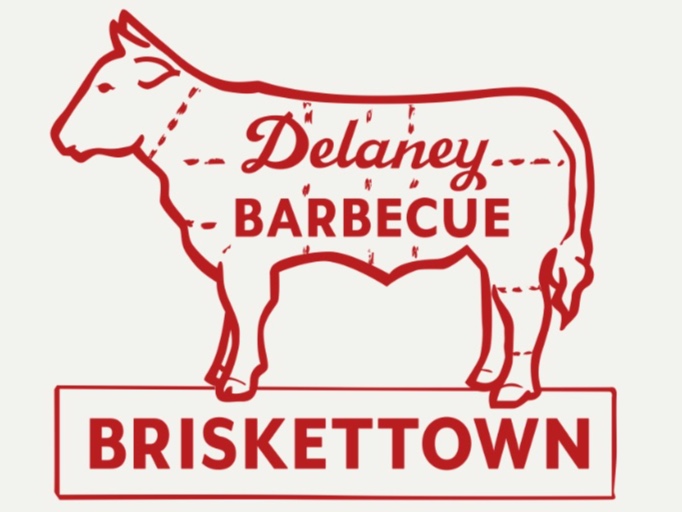 Store Design
BrisketTown was designed by Home Studios of Brooklyn, NY, and was built by Precision Innovations. The cozy 34 seat restaurant's design influences were a mix of elements found in Texas and Brooklyn. The floors were made of reclaimed lumber found in a church, the walls covered in wainscoting made old redwood salvaged from rooftop water tanks, and the chairs a signature red. The team put a tremendous amount of work into every detail, down to the door handles, which were made from bleached beef rib bones that one of our first employees whitened himself!